Kirsty & Jesse
Score: 29 ½/30
Spent: $44,428
First Place
With a sleek hi-tech lock on the glass-panelled front door, a bench seat just inside for preparing to head out or in, a fun shell chandelier, in-floor lamps highlighting arches Jesse and Kirsty's main hallway brought a contemporary take to their Hamptons style and the perfect entry to their home. "So welcoming!" Neal said as the judges walked in, stopping to admire the powder room that is a full-size bathroom, a functional laundry with side access storage galore and tiled splashbacks. Impressed? They certainly were!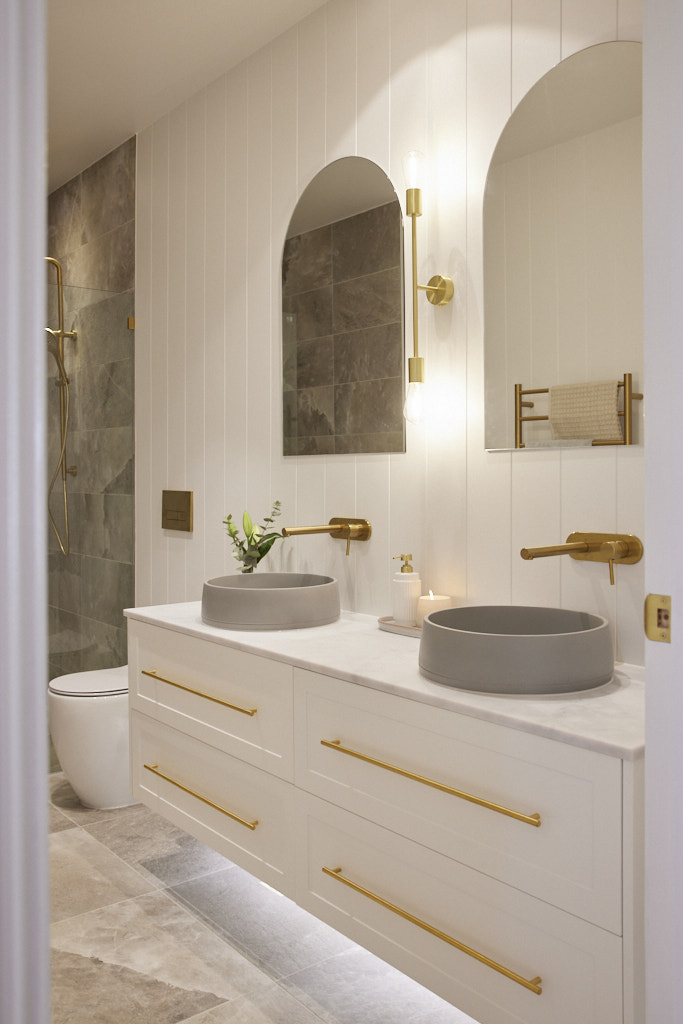 You can SHOP all of Kirsty and Jesse's rooms here.
…
Ronnie & Georgia
Score: 29 /30
Spent: $37,418
Second Place
If anything was going to make a statement, it was Ronnie and Georgia's gallery entrance hall, dripping with beautiful works from artists including Jai Vasicek and Lizzy Stageman and with Gyprock finished to a flawless level five finish. "It just sings, doesn't it!" Darren said as the judges walked down the sun-soaked (thanks to a string of Velux Skylights) corridor and into the living room. Next to impress was the steel-frame door separating the living area from the bedroom hall – again dripping art – with a loft storage area above, followed by a laundry that ticked all the boxes.
You can SHOP all of Ronnie & Georgia's rooms here.
…
Mark & Mitch
Score: 26 ½ /30
Spent: $25,092
Third Place
A glass floor in the hall to bring light downstairs, beautiful artwork above, and a hallway that smoothly and effectively separates the living and sleeping areas of the house, this was a well-planned and well-executed space that was definitely something for the judges to love – especially when they realised it led to a full-size pantry, something they'd searched for but failed to find back in kitchen week! Next surprise was the versatile, fully equipped laundry with garage access offering an impromptu mudroom and more storage, to complete the home. It all added up, Neale said, for a "pretty damn good" way to tie things together.
You can SHOP all of Mitch & Mark's rooms here.
…
Tanya & Vito
Score: 25/30
Spent: $34,138
Fourth Place
With a huge aluminium and glass door to separate the living room from the hallway while still bringing light to a small, but functional office and an art-lined corridor with its own powder room this was the ideal way, the judges said, to separate the home's spaces. A switchboard cover on display brought them down, as did a polarising mirror that might be a bit too much for some, but into the laundry and Shaynna at least was smiling again at the ample storage. 
You can SHOP all of Tanya and Vito's rooms here.
…
Josh & Luke
Score: 18 ½/30
Spent: $TBA
Last Place
It took a lot of work – and a lot of argument from the judges – but after flipping spaces and fixing the layout, Josh and Luke made the most of Hellweek to tie their home together… At least the parts they managed to finish! The main hallway with six doors leading off it, a powder room that was still to be completed disappointed, but the laundry at the end was worth the trip, a spacious, well-appointed room deemed one of the best the twins had delivered.
You can SHOP all of Josh and Luke's rooms here.
…
Which was YOUR favourite room this week?
♥ KC. Images thanks to The Block Shop and nine now.