You've been decorating your little heart out, but you still think the room isn't quite finished? Finding that last piece to the puzzle can be painful and exhausting (if you're the kind of person who loves everything to be just right!). I do it all the time – redesign rooms and then get lost on how to finish it off perfectly. Usually it just takes one simple thing to fix it. Today I have a couple of solutions on how to finish an unfinished room…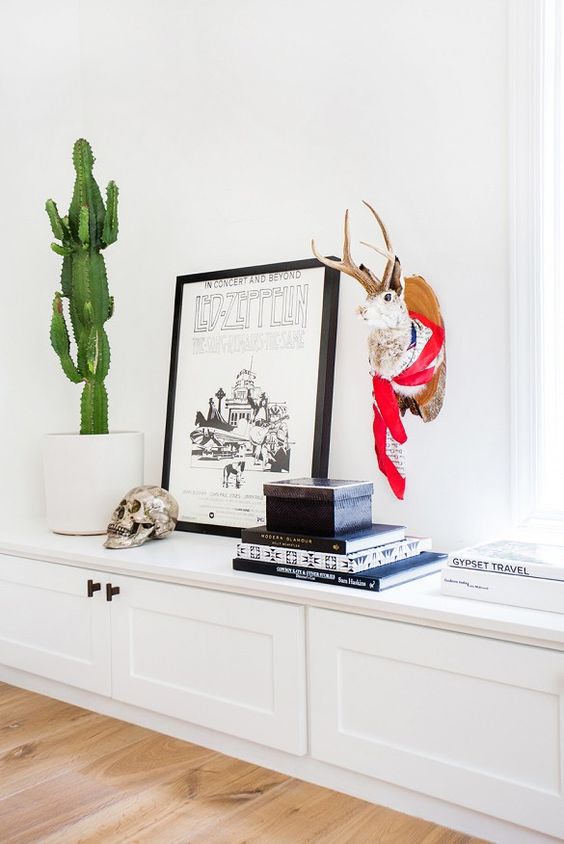 When in doubt add some black – this is my favourite. I do this! Always add a black something – whether it's a pot, a candle or a vase. Even a black chair. Recently I added a black coffee table to my living area because I was never happy with the lighter colour. It always felt like it was floating. Black instantly grounded the space.
Paint or add wall panelling to beef up a blank wall – if you have a wall where just adding another piece of artwork or a mirror wouldn't work (because you've already done that), then a painted wall or panelling will add dimension/texture to the space. Wallpaper would do the trick too.
One bunch of flowers – or a vase with cuttings from the garden. This is such an easy way to style up a console table. Just add greenery to water in a clear vase and you'll instantly have a new 'something' on your table.
Tall plant to fill a corner – if you have a black thumb then go fake. A bit of greenery will always work. If it's still not tall enough, then put it on a stand to create the height.
No floor rug is better than a small one – so make sure you buy big! Bigger is better and will always make the room feel finished.
Add a mirror – if you have no idea what artwork to chose, then don't. Just grab a mirror. It also makes the room feel lighter and more glam. Round is good.
Different size throw cushions – don't buy all rectangle, or all square. Mix them up on your couch. Add a round one too. If you're stuck on cushion placement, then direct your thoughts to shapes and then it will come together, I promise!
Repeat – if the lamp looks good, why not add another (put them on each end). It can balance out a sideboard especially if it's quite long and you don't know what else to add.
Add odd number groupings – three or five is good. In different heights for a console table. Put a mirror behind them and ta-dah you'll love the outcome.
Let one piece of furniture float in the room – pull that chair forward, add an ottoman – don't push everything against the wall.
If the artwork looks too small, add another. Doesn't have to be identical so add more than one piece. Odd numbers work better. Check out some gallery wall ideas. It's actually the most effective (and affordable) way to fill your walls.
♥ KC.
images. 1. / 2. / 3. / 4. / 5. / 6. / 7. / 8. / 9. / 10. / 11.