Kirsty & Jesse
Score: 28 ½/30
Spent: $86,411
First Place
The biggest space by far – more than twice the size of some of their competitors – was always going to give Kirsty and Jesse the biggest challenges, but as the judges saw when they arrived, they were certainly up to the task. Standing on the enclosed pavilion area complete with dining table, wood-fired barbecue, fridge and pizza oven to look out over the huge yard with arbour, limestone seating area and generous (biggest of The Block) pool, Neale's reaction said it all: "This is insane!".  Featuring established Dragon Trees, a secluded side garden with tiled Grafico mural and to cap it all a chook shed, this will be, the judges agree, an agent's delight to sell.
You can SHOP all of Kirsty and Jesse's rooms here.
…
Josh & Luke
Score: 28/30
Spent: $53,538
Joint Second Place
An "almost Japanese simplicity" awaited the judges in Josh and Luke's backyard, with a long pool featuring arching fountains surrounded by Outdure decking, a Venetian plaster feature wall, barbecue and dining area and "sculptural, sophisticated" Dragon trees all combining to create what Carren happily called: "The crescendo to the house" and the perfect outlook to the controversial flipped master wing. Shaynna added her cheers at the perfect planting, perfect lighting and just around the corner, the biggest fire pit so far and even a kennel, complete with puppy inside!
You can SHOP all of Josh and Luke's rooms here.
…
Mark & Mitch
Score: 28/30
Spent: $46,425
Joint Second Place
Mitch and Mark's love of Palm Springs was obvious to Neale from the moment he walked into their back yard, with its huge overlooking tree a feature saved from the original garden. The judges were quick to embrace the wide spaces that had been enclosed by the pool surround fencing, including the poolside cabana complete with fridge, barbecue and alfresco dining area. Tucked out of site was the clothesline and services, making this a "perfect backyard resort!" Darren said with one minor point to consider – will there be somewhere for kids to play?
You can SHOP all of Mitch & Mark's rooms here.
…
Ronnie & Georgia
Score: 28/30
Spent: $76,033
Joint Second Place
Like the house it is attached to, Ronnie and Georgia's back yard is white, light and bright, bringing the style of the inside to the world. From the PGH brick wall overlooking the pool, to the adjacent outdoor dining area boasting a barbecue near the kitchen servery and separate kids/pets play area with low-maintenance artificial turf, this is a yard with distinct zones, each planned and executed well. Mature trees and the washed wall make this a space that looks like it's been there forever, Shaynna said with Neale summing up it's a stunning and saleable space that's "Slick, sophisticated and low-key".  
You can SHOP all of Ronnie & Georgia's rooms here.
…
Tanya & Vito
Score: 22 ½ /30
Spent: $45,005
Last Place
A sweeping Merbau deck leading to the enclosed pool with adjacent barbecue and dining area, Tanya and Vito's backyard showed a usable, functional space open to interpretation but underwhelmed the judges. "Where's the personality?" asked Shaynna as she looked over a large expanse that seemed "undercooked". Using the extra two-metres gained by moving the original house forward, the pair had created a large grassed area with a clothes line to service the rear-opening but left few obvious areas for a family to play.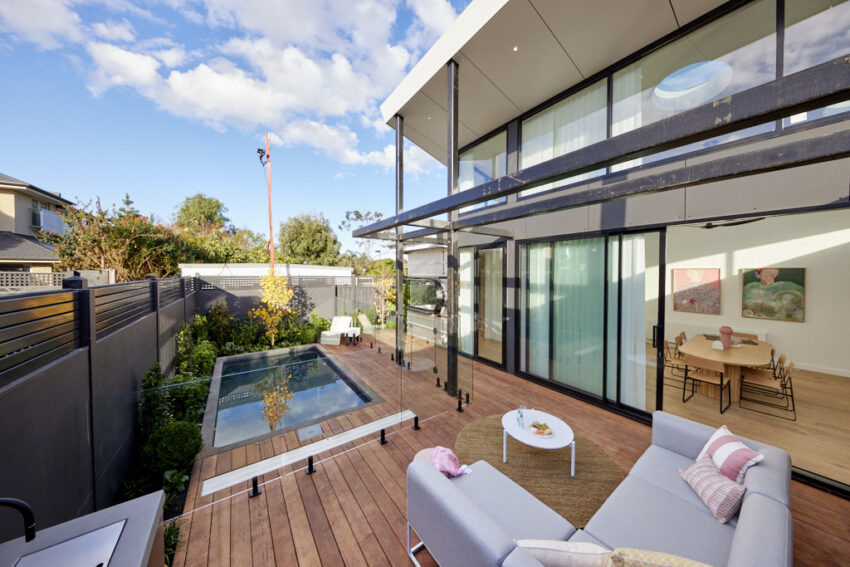 You can SHOP all of Tanya and Vito's rooms here.
…
♥ KC. Images thanks to The Block Shop and nine now.