The Block 2019 Oslo: Roof Terrace & Redo Room Reveal
MATT AND EL'ISE
Redo Room: Kitchen
Score: 30.5/30
Matt and El'ise presented the mother of all terraces this week, maxing out on inclusions to wow the judges. And it worked! They won, thanks to all their perfectly-executed spaces…and that nifty little Bonus Point Gnome!
All three loved what they achieved on their terrace, especially the inclusion of that amazing in-built fireplace. They also loved the lounge area and coffee table, the enormous BBQ, fridge area and kitchen prep space, the custom-made seating and the beautifully potted olive and lemon trees.
Downstairs, the judges also thought they'd changed their kitchen area for the better, removing their oversized central range hood to create more bench prep space via the inclusion of the Bosch down-draft induction cooktop.
Through to the garage, and the smiles continued, with all three judges appreciating the extra effort the couple went to to include that feature graffiti wall.
…
ANDY AND DEB
Redo Room: First guest bedroom
SCORE: 29/30
Andy and Deb created a simple, yet stylish outdoor terrace area that the judges all fell in love with. Furnishing it with a white picnic table, stylish timber and cream couches, a large BBQ, timber breakfast bench, large potted plants, and adorning the area with pretty festoon lights, it had everything the judges were looking for in an outdoor terrace space – and very nearly scored them another win.
The judges were equally effusive downstairs, all commenting on how light and bright their guest bedroom felt. Shaynna particularly liked that the couple had kept their timber-framed bed, but added interest with brown tones in the cabinetry, occasional chair, mirror and the taupe-coloured bench seat. The bed was also dressed with pretty patterned cushions.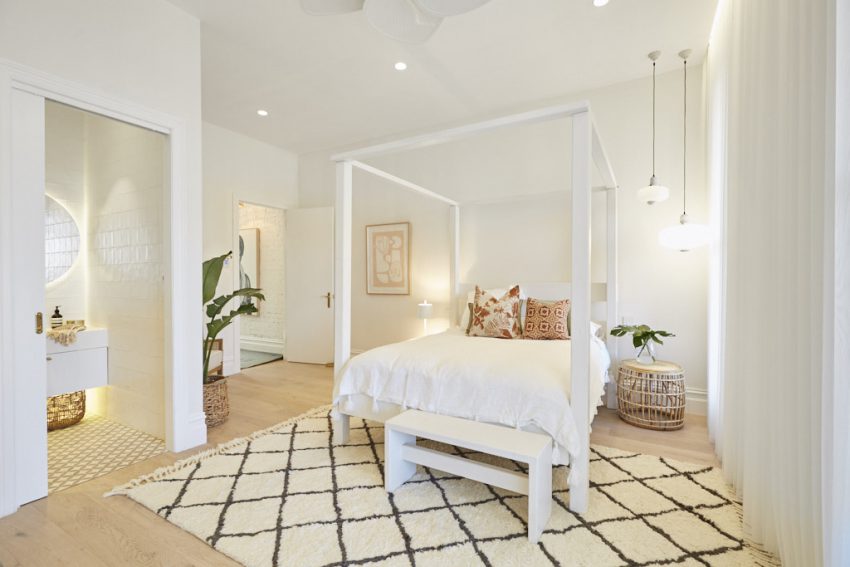 …
TESS AND LUKE
Redo Room: Dining Room
SCORE: 27/30
Tess and Luke went all out this week, transforming their rooftop terrace and changing up their previous formal lounge into a deluxe dining room space. Starting out on the roof, the couple furnished the space sparingly, but with style, including a sophisticated white and grey outdoor dining suite (a three-seater and four-seater couch), wooden table with high bench seats, small coffee table and a series of potted citrus and palms in wide, circular pots. The judges all thought they'd done well – especially given their limited budget.
Downstairs, the judges smiles continued, with all three loving the couple's decision to include a formal dining space – the only one of it's kind on this year's Block. A large table was dressed with deluxe tableware, with 10 plush chairs situated around it. A decorative wall unit, huge statement artwork and open fire finished the look.
…
JESSE AND MEL
Redo Room: Master Bedroom
SCORE: 24/30
Jesse and Mel have always had a good sense of what buyers want in the Saint Kilda area. So it came as no surprise that they spared no expense making sure their terrace was packed full of quality inclusions, including an enormous BBQ and outdoor kitchen, built-in seating, a bar area, and even a space to sit and eat. Timber highlights and use of outdoor plants added to the atmosphere, all creating an area that potential buyers are going to want to spend time in.
All three judges thought Jesse and Mel had created a "glamorous blank canvas," choosing neutral colours and inoffensive design choices to maximise their appeal to the broadest possible cross section of buyers.
Downstairs they were underwhelmed by the couple's decision not to change anything in their guest bedroom, and their sparsely finished garage.
…
MITCH AND MARK
Redo Room: Guest bedroom / Tiles in stairway
Score: 22/30
Mitch and Mark created a "little oasis" on their upstairs terrace, furnishing their space with potted palms in massive white pots, lots of greenery, grey outdoor furniture and pops of colour courtesy of strategically-placed brightly coloured cushions.
Not content to just have their deluxe BBQ on Level One, they also chose to include a second double range Broiler King on their roof, the icing on the cake of their "Entertainer's Dream House."
The Mid-century look was carried through to the terrace space courtesy of a large square coffee table, and 50s-style lounging chairs. A huge market umbrella completed the look.
Downstairs, Mitch and Mark simplified their "re-do" Guest Bedroom, removing beading from the walls, changing artwork and paring back their styling.
The judges mood changed when they saw the couple's garage, complete with that Grafico feature wallpaper – and that adorable Volkswagen Kombi!
What did you think of the reveals this week?
See all the past reveals here.