Hellooo!!! Oh I've been nervous about putting these photos up! Who wants to look at themselves under a bright light where you can see the hair on your face and also realise you need to get your eyebrows attended to?? The 41 year old face isn't as young as it used to be…. ha!
BUT, I've been having some treatments done with the lovely staff at Complete Skin in Wagga (these have been gifted to me in exchange for some socials) and the only way to show you how good these have been is to share the barefaced before and afters. I'm cringing a bit, but I am so happy with my skin (when I have some decent foundation on!) that I have to share these with you all. And seriously, I'm not that precious. 😉
A quick background… I have been immuno-compromised since I was 18 years old with Crohn's disease. I have taken many many medications over the years. I have been very unlucky with the sun and the medication as a side effect. In 2013 I had 2 x BCC removed from my forehead, in 2014 I had a skin graft on my nose and another chunk taken out of my neck area, in 2016 I had a SCC removed from my lip. I've also had many sun spots frozen off over the years.
So….. I was due for some serious work on my face! I needed more sun spots frozen off, some pigmentation removed and a few good scrubs to bring my skin back to life.
Around this time I also changed my skin care routine to doTERRA. I swear by Frankincense!
Anyhoooo…. I want to tell you what I've had done so you can go to the Complete Skin in Wagga and tell them you want what I've had! 😉
I was seen by the Complete Skin doctor before these procedures were done. I felt comfortable I was definitely in the right hands for this.
I had 2 main things done –
Cryotherapy (freezes off your sun spots) – I had this done on about 7 places on my face initially. After a few weeks I did have 2 more we needed to do again. It wasn't pretty for about 10 days! There are photos below. But they healed wonderfully!
ICON – The ICON laser achieves excellent skin resurfacing results. The treatment creates new, healthy tissue to replace the areas of affected tissue, resulting in healthier, younger-looking skin. I had this 3 times. It is for pigmentation removal and it stimulated the collagen in my face at the same time. It is uncomfortable, but not painful. Scroll down and see the during photos…
The photo above was before I had anything done and then the below is after the Cryo and only 2 ICON treatments. There was about 6 weeks between these 2 photos.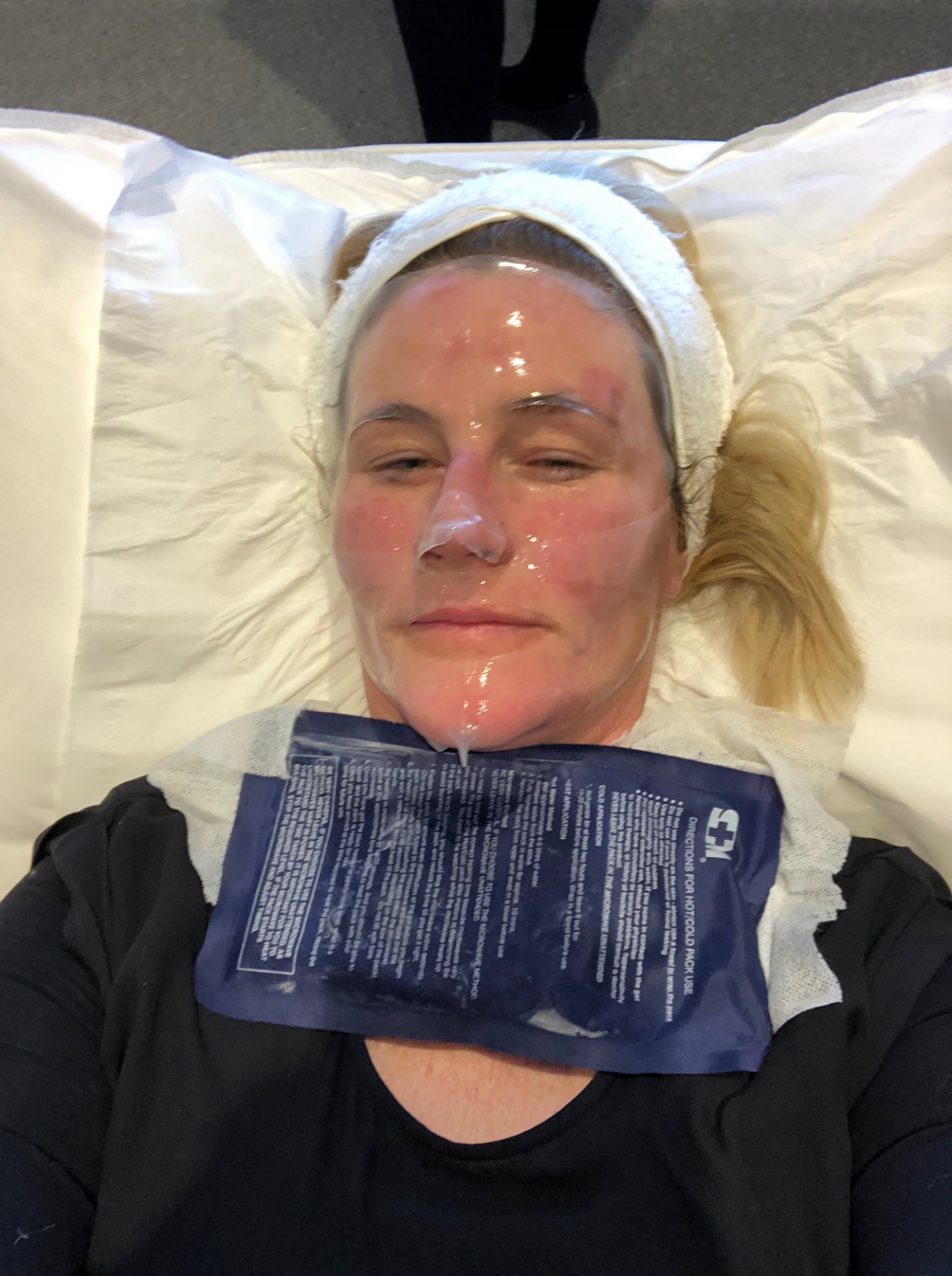 After each ICON treatment you need an ice-pack and good moisture mask! Looks pretty 😉 Your face will be red and hot.
The above is the before and after of 3 treatments – so about 9 weeks.
This is what your skin will look like after the ICON. See the pigmentation is coming away. It will look like you've rolled in dirt. It does take 7-10 days to go away. The 4th day is about the worst. There are no scabs or anything. Just discoloured skin.
These two photos above are of the Cryo healing. They were the worst part. They do scab up and look pretty yucky. They will take a good 10 days to heal.
Again, the before and after all of the treatments. So, I can see lots of pigmentation has gone, the collagen around my mouth, eyes and forehead have come back to life.
A funny looking selfie! Ha, but this is my face only a few days ago. Looking much smoother and plumper! No skin spots, less pigmentation. Still old and in need of some eyebrows 😉
I also had my hands done with the ICON! Oh that hurt! And it did take a good 2 weeks for all of that to come off. I am so happy with them though. You may only need the one treatment on those.
So, there you go…. A few simple procedures, a good skin care routine, some good face scrubs and you'll be feeling fresher in no time. They have lots of other services you could look at too. I am a massive fan of microdermabrasion too. Follow Complete Skin on Facebook here.
Make an appointment for a consultation with any of the staff. So helpful, friendly and patient with my tired old face. Now I will be just maintaining my skin when I can, but I am so happy I went ahead and got all of this done. Overall it was about 3 months, but totally worth it all.
♥ KC.