Brought to you by Officeworks.
Today I'm going to show you how to make an easy and personalised Mother's Day gift using a bunch of your favourite photos. The photos will be used to make a gorgeous love heart frame to gift to your Mum that she will be able to hang up around the house!
What you'll need:
Photos – pop them on a USB stick or print straight from your phone using pictures saved to your Facebook or Instagram. Then head to Officeworks and use their easy Kodak Picture Kiosks in store. Within minutes you'll have your photos. For this project I chose photos to be printed in a collage. This cost me about $2.
Pallet boards
Step 1:
Taking the photos I got from Officeworks, I cut out each of the little photos individually. It didn't take me long to whizz through these! The kids helped with the scissors to help get it done quicker. 🙂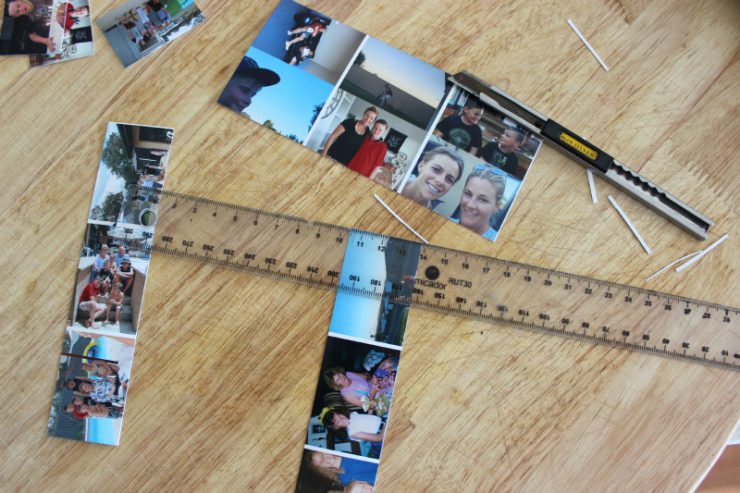 Step 2:
I drew a rough love heart with a pencil just to guide me. I took a photo of it, then rubbed it out before I put them on there permanently.
Step 3:
I found an old pallet at my husband's work and ripped off 4 panels. You can find old pallets anywhere these days. Behind hardware stores, on building sites and in side streets. Just keep your eye out…
Step 4:
I pulled out any stray nails, and cut each piece with a 45° angle. Now this won't be easy for you if you don't have a drop-saw, so as another option you could buy a frame like this one from Officeworks and put the photos under the glass which would look very neat and lovely.
Step 5:
Then I simply used wood glue to put it on to the backing board.
Step 6:
Blu tack kept the photos in the heart shape.
There you go – an easy DIY Mother's Day project using family photos and a frame. A great personal and stylish decoration for Mum to put in her home!
♥ KC.