Hi there! I've been spending a little bit of time fluffing around in my boys' bedrooms. 2 weeks ago I showed you makeover number 1.
I have 3 to decorate and this can be a challenge (with only so many ideas in my head!). Although, this child's room wasn't too hard because he has that amazing full wall world map. Still in love with it. Tex is 9 and 1/2.
Here are the pictures and below are links to where I bought everything…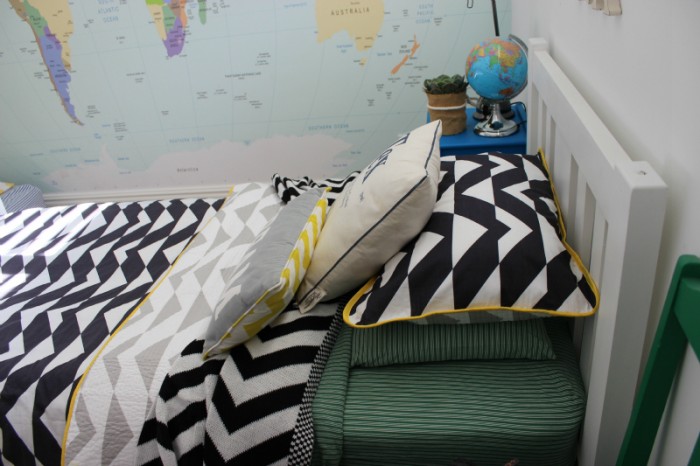 Dream Pillow – Adairs (not online)
Zig Zag throw rug – Big W (not online)
Bedside table and chair – garage sales and I painted them
On the other wall he has a white shelving system with all his special things, and he also has a big black circle floor rug which isn't in the photos.
…
Yesterday I made shelves for number 1's bedroom which I will blog about later today. They were so easy and I did them all by myself! Anyway can do them. And they cost me $40! Bonus.
So, now I'm on to bedroom #3… stay tuned.
PS. None of these bedroom posts are sponsored. I bought all items.