Oooo don't you just LOVE kitchen week on The Block? Last night the contestants smashed out some amazing work. Looks like black is a winner! I am in love with Will and Karlie's masterpiece. Come and take a look at what they achieved. No expense was spared with the girls having at least $90,000 worth of appliances alone in their kitchen! Woah!
Will and Karlie
They did not disappoint with a perfect score this week of 30/30. Their trademark dark colours and timber combo came up stunning! I knew their kitchen would work well with the rest of the house. The floor lightens the space and I love it.
…
Dan and Carleen
Dan and Carleen also scored 30/30 from the judges. Not my favourite and I just don't know how they also got a perfect score. I think you'd have to agree when you look at some of the others below? That art deco theme really got them again didn't it? The grey tiles and the brown cabinetry wasn't working for me.
…
Ben and Andy
I quite like it. Not too fancy and was a pretty safe layout. I like the overhead cupboards and the mirror splashback is good. I like that they carried the green from the laundry in the the kitchen too. They scored 29/30 (but used their bonus point).
…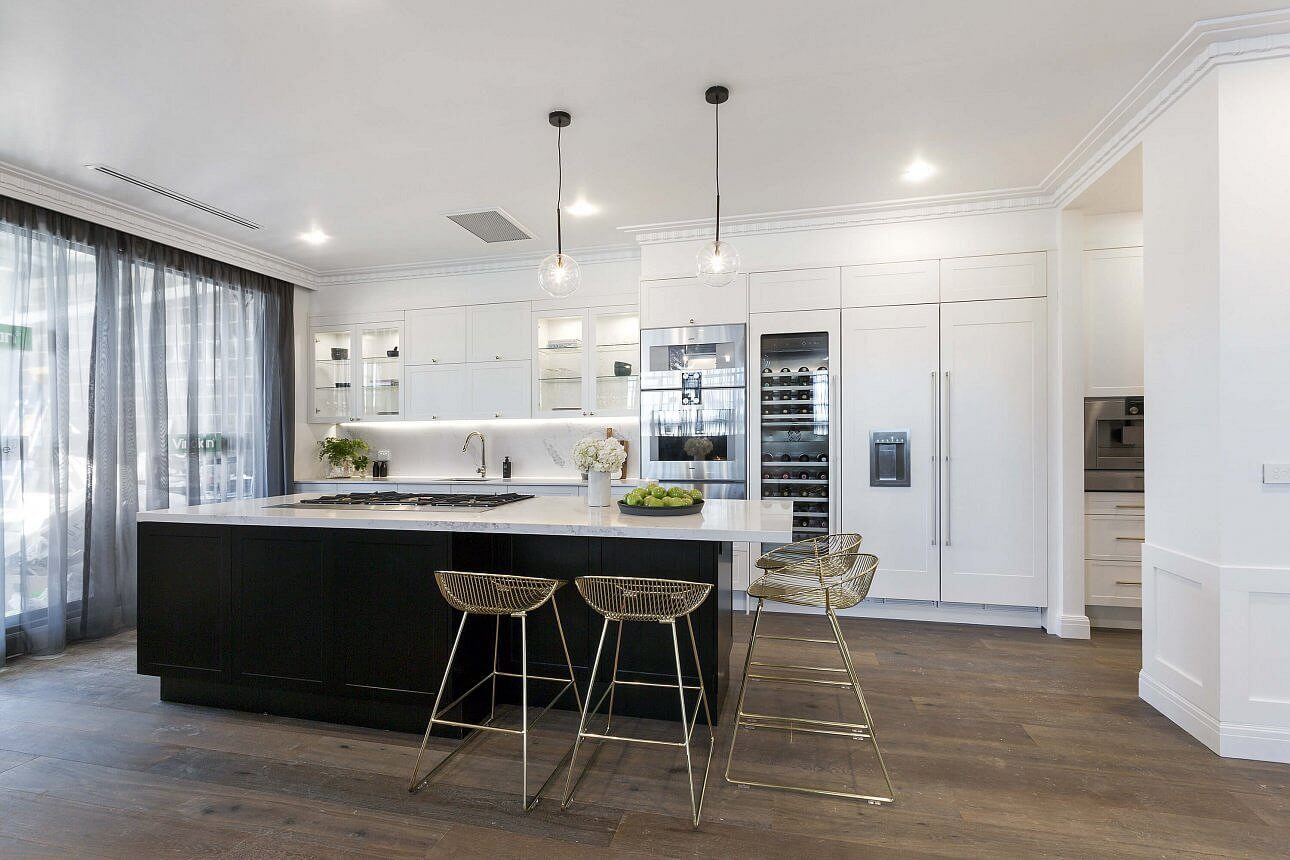 Julia and Sasha
I love the girls. Their style is always right up my alley. I knew they'd do white and marble. It's so pretty. They scored 28/30 this week. Their appliances were high end and they wrote on social media last night they have $90,000 worth of appliances! Hope that pays off come auction day.
…
Kim and Chris
This one felt quite similar to the boys for a bit? I got a little mixed up when I was loading in the photos! It suits the rest of the house well, but it isn't blowing my mind. It's nice and neat and safe though. The judges gave them 24/30.
…
What did you think of the reveals?
The houses are pretty much finished and now we move on to the outside. Which is your favourite so far??
You can see all the other rooms here if you missed some.
♥ KC.