Brought to you by Nuffnang and The Reject Shop.
Have you been to The Reject Shop lately? I pop in and out frequently as it's right next door to my local supermarket. Every time I visit I always discover something new and different to buy. How can you not when it's such a good price?!
Last week I was given a challenge to get creative and savvy with their products and use them for things other than what they may appear. I was totally up for that and I off I went shopping with my little basket in hand…
Here's what I purchased. My mind was ticking over as I brought them home and popped them on my kitchen bench…

What I purchased:
Mason jar mounted to wood – $8
Bread board – $12
2 x small light globe vases $5 each
Gift tags – $3
Paper straws – $2
Bathroom door hook – $3
LED party globes – $25
Here's what I did with them!
1. Use a bread board in the bathroom
See, boring bathroom! I have used trays before and I never seem to like them – they're either too big or too deep.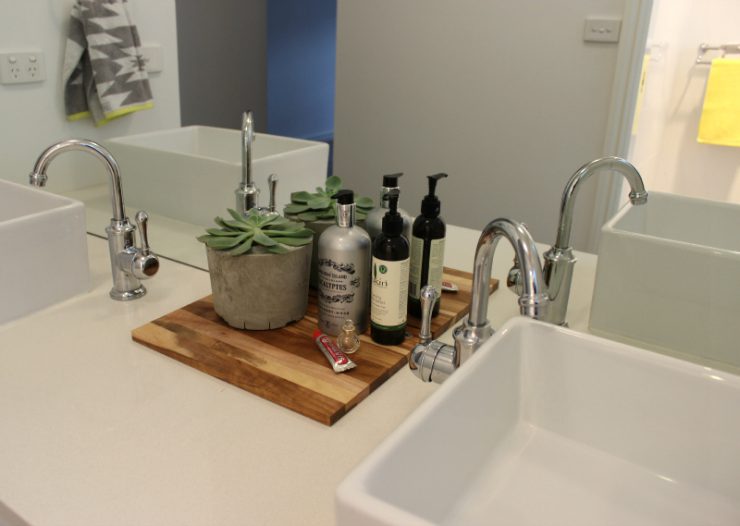 The bread board sits perfectly and looks great. What a bargain!
::
2. Party lights + bathroom wall hook for kids room
How cute are these lights? I love a good party globe. These clear ones were inexpensive and run via battery so I was even happier when I didn't have to plug it in to power – this means I can hang them wherever I like.
On the back of the wall hook were some metal brackets which I took off very easily with a screw driver.
I just mounted the hook with some blu-tak as it was light and could be removed easily if needed.
Such a cute little addition to his bedroom – actually I am going to add a set of these to another room.
::
3. Light globe vase
How cool are these light globes? I collected a selection of them. I popped the fairy lights (from above) in one of them (the globes on the fairy lights just pop off as they are only plastic). I also gathered some flowers from my garden…
 ::
4. Mason jar in the bathroom
Here's a cute mason jar I mounted to the bathroom wall and popped a few complimentary hotel products in them (who doesn't love a good bathroom hotel goodie! Ha!). Here's the perfect thing for them. I loved this once I got it up on the wall. You can use this wall mounted mason jar for any kind of makeup too.
Quick guys! Pop in to your local Reject Shop and see what new products you can discover, or to see what's new sign up to become a Savvy Shopper and that way you'll be sure to never miss a bargain.
What do you think? Any of these projects tickle your fancy?
I'm going to give a $100 Reject Shop gift voucher to one of my readers!
To enter answer the following question:
With a $100 Reject Shop voucher, how would you get creative and savvy with their products?
Happy shopping. ♥ KC.
Entries open to Australian residents only. Giveaways are in accordance with my disclosure policy. Competition is based on skill. Full T&C's are here. CLOSED – winner announced in comments below.