Sarah and George | Week 10 | Front Garden and Façade Week 29/30
After a slow start to The Block, it's wonderful to see Sarah and George hitting their straps as we near the end. Their Front Garden and Façade was simple and elegant, and the judges loved it. They had a secret weapon this week, a man called Dave Franklin. He and his team landscaped beautifully. Perhaps a highlight was the 200 year old grass tree that Sarah named Lola. She is a beauty. The coloured bricks impressed the judges, very fitting for the 1940s era. Overall, not much to fault for Sarah and George.
 You can shop Sarah & George HERE.
…
Jimmy and Tam | Week 10 | Front Garden and Façade Week 29/30
Wow, this is what you call Palm Springs.  What a unique and original Front Garden and Facade from Jimmy and Tam, and we would expect nothing less. The low maintenance garden featured no lawn but stone, which fits the Palm Springs style that the Brisbane married couple are going for. The spacious decking was relaxing to sit on and perfect for a G&T after a long day at work. The only negative Darren had was he wanted to see more plants like the impressive cactus in the front garden. What about the front door painted peach? Shaynna loved it – very 1950s.
You can shop Jimmy & Tam HERE.
…
Luke and Jasmin | Week 10 | Front Garden and Façade Week  28/30
The 'house of curves' is what Luke and Jasmin are going for, and that theme continued this week. They had a very unique curved chair to the left of the entrance, that will only add value to the house. The trees that Luke and Jasmin planted at the front of the house will also grow and come together and provide privacy from New St to the house. What a winner for Luke and Jasmin. The only thing Neale didn't like was the water feature, but that didn't bother Jasmin. It is staying.  Another very high score for our married couple from Perth.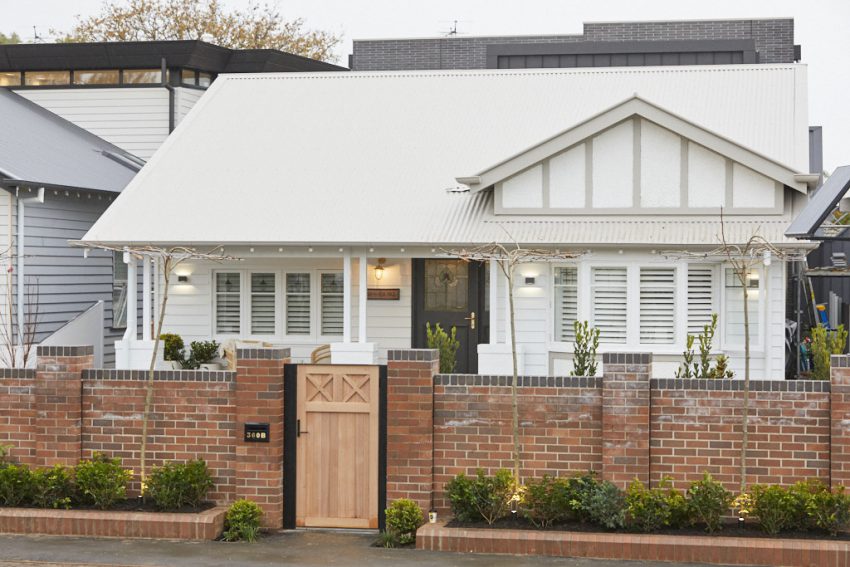 You can shop Luke & Jasmine HERE. 
…
Daniel and Jade | Week 10 | Front Garden and Façade Week  28 /30
It's all about the detail for Daniel and Jade this week, and they nailed it. Their façade is one of the biggest on The Block and it took a lot of work to make it so special this week. The traditional plants Daniel and Jade chose were a hit, fitting the 1940s brief. The decking to the entrance of the house was a catwalk for Darren Palmer, but all the judges thought it could have been finished off better with steps being dressed with black panelling. Other than that, not much else wrong with Daniel and Jade's effort this week.  
You can shop Daniel & Jade HERE.
…
Harry and Tash | Week 10 | Front Garden and Façade Week   26/30
Tash was in tears this week after hearing the judges feedback, not only for herself and Harry, but for her trades who put so much effort in. It was a must win for the Melbourne father and daughter, as they are facing huge budget issues but it wasn't to be. The judges did love the white bricks of the steps and the archway, but it wasn't enough to win them over. The plants were beautiful, but in the eyes of the judges, the garden was too busy. Harry and Tash would have been better with more lawn for children to play in, which could be very important for a family friendly buyer in Brighton.
You can shop Harry & Tash HERE.
…
What did you think this week?
All of the other rooms and reveals are here!
♥ KC.
Images thanks to The Block Shop and nine now.