How's your winter lawn looking? Ours is horrid! The frost has really been unkind to Wagga the last few months. Last year it didn't stop raining, but this year we haven't had much rain, rather we've been waking up most days to the frost. I have a huge front lawn and it browns off terribly during the winter. So with brown lawn and pruned roses we don't have a pretty house during the winter months.
Recently Lawn Solutions Australia sent me a few bottles of their new product ColourGuard. I'd seen it before and was amazed at what it did. You paint your lawn green with it. Yes you heard right! Paint your lawn. Come and see…
A typical looking lawn and garden in the winter. Brown, stagnant and dreary.
A game changing product from Lawn Solutions Australia, ColourGuard is a natural turf grass colourant that is environmentally friendly and 100% organic. ColourGuard is easy to apply and adds cosmetic appeal, no matter what mother nature throws at it.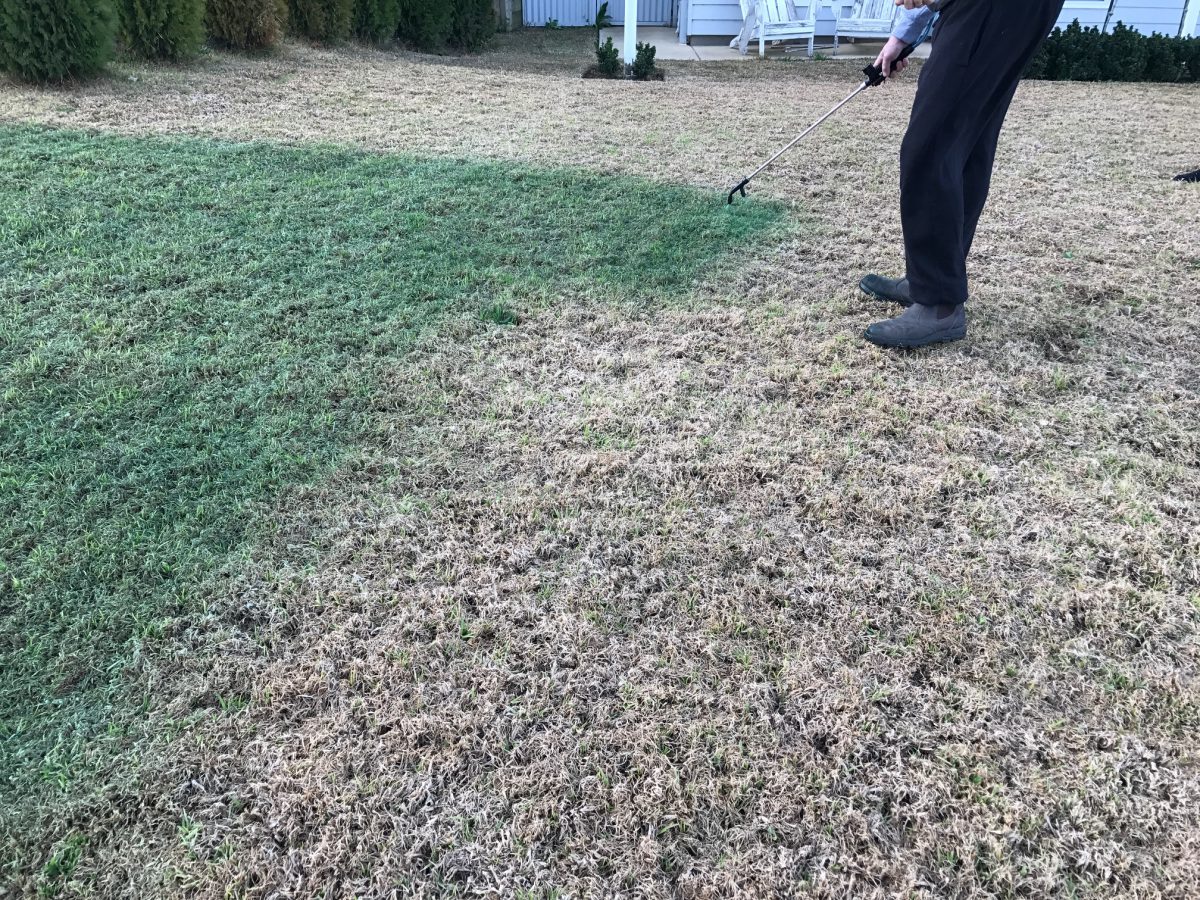 It's as easy as mixing up the product and spraying it on your lawn. We had the neighbours out watching and the people walking by were fascinated. This was so much fun!
Half way. How does it look already?? Much better!
Benefits of ColourGuard 'lawn paint'
Instantly restores the natural green colour of grass – year round
Substantially reduces watering needs
Stays green during droughts and water restrictions
UV fade resistant
Won't bleed, run, or stain once absorbed into the grass
Safe for the environment, pets and people
Works in extreme heat, cold and frost
Organic and natural – no harmful chemicals
Reduces the amount of fertiliser and water used on lawns
We will be doing this again in the Summer (it can be used all year round) to save money on our water bill. It's been about 3 weeks since we 'painted' our lawn and it still looks amazing. It's really affordable too. At $30 a bottle (we needed 2 coats) it's cheap as chips and your lawn will look lush in no time.
Check it out here and buy online or find your local supplier.
Let me know if you do it too! ♥ KC.